Personal Combat DVD's:
Defense Against Weapons
Do It Yourself
Self Defense Weapons
Package Deals
Outdoor Survival
Survival Snare + Annealed Steel Support Wire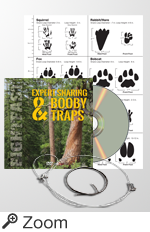 Instructor: John Kiser
Code: SNR $7.95
The TRS Survival Snare. Tough as nails and capable of being used over and over again and comes with a specially annealed flexible steel support wire. This is how you will precisely position your snare to the exact diameter and height you need.
Call us at 1-800-899-8153