Defense Against Weapons
Do It Yourself
Tom Muzila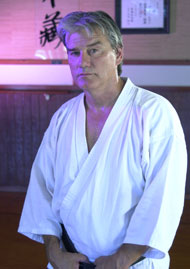 Tom Muzila is the best-kept secret in the "international fighting game". In Hollywood movies, Bruce Willis and Steven Seagal are bad-ass warriors. But in REAL LIFE, they rely on Tom for intense personal protection.

U.S. presidents can choose ANY spec op soldier, federal agent, or growling hulk on the planet as a bodyguard during visits. Reagan and Clinton have gone with Tom. Because they know he's the guy "behind the scenes" who is TEACHING so many high-up SEALS, SWAT cops and federal secret agents how to fight.

They go to the SOURCE. Oprah Winfrey, Vanna White, Michael Douglas, Stevie Wonder, Archbishop Tu Tu... they all choose Tom when the chips are down.

His age and small size makes him look like the kind of guy who gets BEAT UP in the street. So when Tom DOES the beating up, he makes a statement to all of us. Nothing matters - not size, or strength, or agility - except your fighting know-how.
Call us at 1-800-899-8153