Defense Against Weapons
Do It Yourself
SEAL Team Unarmed Combat Course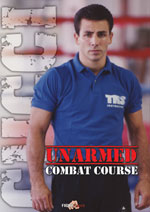 SEAL Team Unarmed Combat Course
Instructor: Frank Cucci
SKU: CUCCI $97.00
This amazing system was created to meet these basic requirements: The skills must be able to be learned quickly and remembered "viscerally". The system must be easy to use. There are never any "hard to master" moves, such as spinning head kicks.
2 DVD, 110 Minutes




More Information
First Page Previous Page > >>>
Call us at 1-800-899-8153