Defense Against Weapons
Do It Yourself
Bob Taylor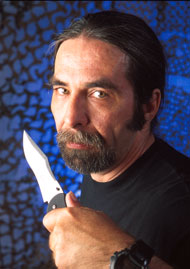 Bob Taylor is considered one of the country's most experienced experts in counter insurgency operations; state, local and federal law enforcement agencies use him frequently for training. He is also a specialist in counter-terrorism for African, South American and Central American governments.

He was a 2-tour combat veteran in Vietnam.

He's worked as a private eye, a personal armed bodyguard to superstar rock groups (like Aerosmith, The Who and Led Zepplin), and has been "loaned-out" for his expertise in "hot action" canine handling to 11 different police jurisdictions. (You know it's serious shit when the dogs are called in!).

He's also a recognized "Chi Master." At an infamous Soldier of Fortune convention, he drove a steel rod through his forearm, tied it to a new Ford Mustang, and dragged the car 287 feet... without blood, without pain, without scaring. (Don't try this at home.)

What's more, Bob is among the few world-class masters left in the forgotten art of knife-throwing. (And he's a knife designer. His blades are among the most sought-after weapons in the martial arts world). He's also a master at improvised weapons and can stick an unsharpened coat-hanger through a car door a ten feet.
Products by Bob Taylor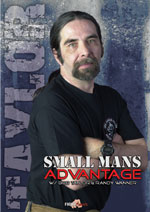 Small Man's Advantage
$69.00
Where the most vulnerable targets are on a big man, spots you can easily get to without being touched by him in return! How to use the psychological advantage you have against an attacker who thinks he's going to rip you up easily.
1 DVD, 93 Minutes


Call us at 1-800-899-8153