Defense Against Weapons
Do It Yourself
Diallo Frazier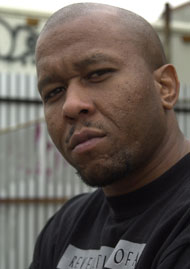 Diallo Frazier was among the nation's most elite gang "enforcers" for all of his adult life. He wound up in that dangerous position because after growing up in the violence of the Chicago ghettos, he learned to be better than everyone else at fighting.

Diallo Frazier's job including debt collection, enforcing the rules and doing anything that needed to be done to protect and keep the gang strong.

Diallo Frazier got so good at fighting because he was clued in to a highly secretive street fighting system tightly guarded by the elite street gangs in the U.S.

Diallo Frazier learned and mastered street fighting early on, and it allowed him to become a top enforcer. We are calling this system Ghetto Blocks (the real name can't be revealed because the gangs that protect it made it clear that would not fly and someone would pay).  If you would like to learn this devastating system make sure you order the Ghetto Blocks DVD package.  The great thing about it is that anyone can learn this style of fighting, no formal training is needed.  Diallo Frazier makes it easy to learn, you will not be disappointed!

Check out some of his other DVD titles as well.  At FightFast.com we pride ourselves with making only the best instructional DVDs!  With our Iron-Clad guarantee you have nothing to loose!
Products by Diallo Frazier
Call us at 1-800-899-8153