Personal Combat DVD's:
Defense Against Weapons
Do It Yourself
Self Defense Weapons
Package Deals
Mike Goldbach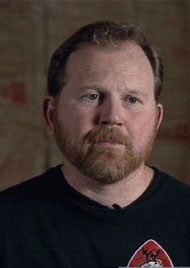 Mike Goldbach was born with the heart of a warrior. He spent 20 years pursuing a first degree black belt in Shorin-Ryu karate... taught hand-to-hand combat to his fellow soldiers in the Army... trained with Chai Sirisute -- the Godfather of American Thai -- kickboxing who intensely trained Dan Ionsanto, (Bruce Lee's partner in creating Jeet Kune Do, and brought it to national prominence.)...

... and discovered a newer, simpler and yet more viciously effective style of fighting than any thing he had ever he had ever encountered.
Call us at 1-800-899-8153