Personal Combat DVD's:
Defense Against Weapons
Do It Yourself
Self Defense Weapons
Package Deals
Mark Parra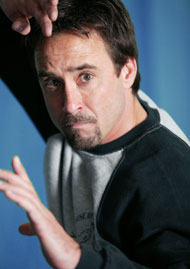 Mark Parra is one of the most accomplished and respected martial artists on the planet. He was personally trained and earned his black belt in Ukidokan Karate by master Benny "The Jet" Urquidez (one of the only 18 ever bestowed by Benny)... and served as a revered instructor at House of Champions for over 10 years.

This guy's got credentials up the ying-yang. At just 5'8", and maybe 150-pounds soaking wet he was chosen as the personal bodyguard and trainer for the death metal band Megadeth -- simply because of his reputation for taking down violent opponents TWICE his size - even if they're numbed-out on drugs and attack in groups.
Call us at 1-800-899-8153