Defense Against Weapons
Do It Yourself
Mike Sastre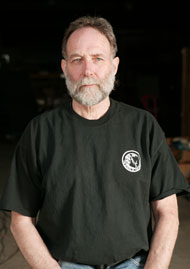 Serious gun and knife enthusiasts love Mike Sastre.

He's got a world-wide reputation among "insiders" for his custom made Kydex sheaths (maybe you've seen the feature articles about him in "Fighting Knives", or "Tactical Knives")...

...and his little company River City Sheaths is backlogged for YEARS with custom sheath requests from deep-cover DEA, CIA, FBI, Anti-Terrorist forces, diplomatic security, U.S. Special Forces, Spec Op Soldiers and a lot more.

What's more, top-quality knife manufacturers depend on Sastre's expertise (just ask the presidents of "Cold Steel" knives and "Spyderco"), to create prototypes and sheaths specifically for "high-end" clients who are looking for the BEST custom fit. These big-wigs have nothing but praise for Mike because he's simply the most knowledgeable guy on the planet when it comes to highly effective weapon sheaths.
Call us at 1-800-899-8153