Personal Combat DVD's:
Defense Against Weapons
Do It Yourself
Self Defense Weapons
Package Deals
Ray Ellingsen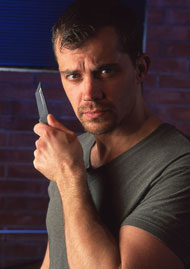 Ray Ellingsen. Ray is one of the most respected martial artists in the business - a veteran trainer of streetfighting, he honed his breathtaking fighting skills by fighting hand-to-hand with the kind of human scum you can only hope you'll never run into yourself.

That's why the cops are so high on Ray. His specialized training has saved the lives of countless police officers (and federal agents). Ray can teach ANYONE how survive and win a fight against the "new" kind of criminal out there -- where there are no rules.
Products by Ray Ellingsen
Call us at 1-800-899-8153