Personal Combat DVD's:
Defense Against Weapons
Do It Yourself
Self Defense Weapons
Package Deals
Tom Cruse
Tom Cruse is known around the world as the guy who personally trained the Navy SEALS in hand-to-hand combat. He has traveled to 14 different countries to teach packed seminars on street fighting, with over 10,000 students worldwide. He has taught law enforcement officers, high-level government agencies, security specialists, private individuals, you name it.

Cruse is unique because what he teaches is simple, easy to learn, and actually works... in the REAL world.
Products by Tom Cruse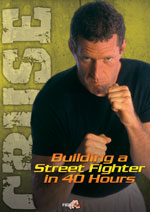 Become a Street Fighter in 40 Hours
$69.00
In this training package you'll learn the fundamental building blocks to adapt to any scenario with the best technique that works for you no matter who you're up against.
3 DVD, 237 Minutes


Call us at 1-800-899-8153