Personal Combat DVD's:
Defense Against Weapons
Do It Yourself
Self Defense Weapons
Package Deals
Tom Cruse
Tom Cruse is a professional street fighter.

He's not like those martial arts "theorists" who spend all their time in a comfortable studio kicking the air, mediating, and eating sushi.

He's been in over 200 nasty streetfights... has been arrested and locked up about 30 times for fighting with a police record that he's not exactly proud of -- but at least proves he knows what he's talking about.

In his professional career, he's known around the world as the guy who personally trained the Navy SEALS in hand-to-hand combat. He's traveled to 14 different countries to teach packed seminars on streetfighting, with over 10,000 students worldwide. He's taught law enforcement officers, high-level government agencies, security specialists, private individuals, you name it.

Cruse is unique because he teaches what works -- because he learned streetfighting the hard way -- not in a classroom.
Products by Tom Cruse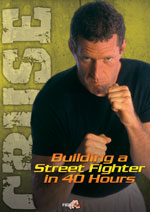 Become a Street Fighter in 40 Hours
$69.00
In this training package you'll learn the fundamental building blocks to adapt to any scenario with the best technique that works for you no matter who you're up against.
3 DVD, 237 Minutes


Call us at 1-800-899-8153