Defense Against Weapons
Do It Yourself
Tommy Dilallo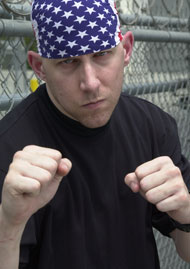 Tommy completed 3 gory tours in Iraq (Desert Shield & Desert Storm). He started studying martial arts at the age of 8 and after he left the Marines he made a vow to create the perfect close quarters fighting system.

To do this he trained in GoJu Rye, ancient Greek wrestling, kickboxing, Russian Sambo, shootfighting, Israeli Krav Maga, Jiu Jitsu, Kempo, Leung Ting WingTsjun, and secret Filipino martial arts.

Out of all these disciplines he created "V-Force S.F.C." His "protection" agency is so serious it is registered with the Department of Homeland Security. He teaches military spec ops soldiers, professional body guards, and law enforcement officers.
Products by Tommy Dilallo
Call us at 1-800-899-8153