Defense Against Weapons
Do It Yourself
Walt Lysak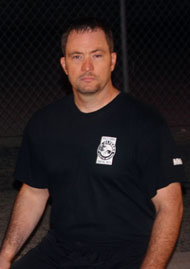 Walk Lysak's credentials are breathtaking. He's a Grandmaster (that's right... a friggin' GRANDMASTER).

He's been honored by Action Martial Arts for "Outstanding Grandmaster Accomplishments"... "Grandmaster of the Year", "Reality Martial Arts Founder of the Year", and "Tactical Instructor Of The Year" from the U.S. Martial Art Hall Of Fame... National Olympic coach with Ken Shamrock, Bart Vale, Keith Hackney, Sheldon Marr, and Dan Severn... 10th Degree Black Belt Sento Method... 6th Dan American Kickboxing under Joe Lewis... and on and on.

You've probably heard of Lysak too. He's been featured in practically every big-time martial arts magazine. Black Belt... Karate International... Grandmaster Magazine... Knock Out... MA Training... Ring Sports... and tons more. Man is this guy revered.

He's got the total respect of the biggest names in the martial arts world. Yet dispite all this, Lysak has just shocked the martial arts world by exposing a dangerous groundfighting fallacy -- and revealing a new and truly nasty form of "street" grappling.
Products by Walt Lysak
Call us at 1-800-899-8153