Defense Against Weapons
Do It Yourself
Eric Ritter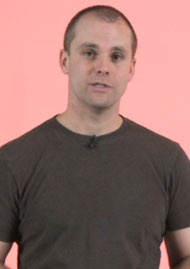 Eric Ritter is not a big guy, but he IS a former U.S. Marine... a 5th Degree black belt with over 30 years martial arts experience... and inducted into the USA Martial Arts Hall of Fame in 2004.

Once on a dare he entered a "cage fight" -- and destroyed his opponent. Made all comers after that look silly too. He did it just to prove a point, and retired undefeated.

So this guy's a true American bad-ass -- with well over 300 confirmed ring fights, street fights, and major and minor brawls under his belt (all victories by the way).

He's also become a damn good citizen -- teaching women, children, and even groups like the "Guardian Angels" how to better protect themselves.
Call us at 1-800-899-8153