Defense Against Weapons
Do It Yourself
Dog Training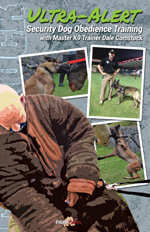 TRS Ultra-Alert K9 Training DVD Package
Instructor: Dale Comstock
SKU: K9ULT $177
Vital how-to information that will quickly transform any dog into a well-behaved, obedient, and loyal companion that will not only act as your personal alert system but can also serve as a viciously effective body guard.
1 digital manual, 2 DVD - 317 minutes




More Information
Unleashed Protection: Advanced K9 Training
Instructor: Dale Comstock
SKU: ADVK9 $500
Advanced short cut secrets to training a top level guard dog. Just two five minute sessions a day will transform an obedient dog into your own personal bodyguard who can attack on command.
1 DVD - 112 Minutes




More Information
First Page Previous Page > >>>
Call us at 1-800-899-8153