Defense Against Weapons
Do It Yourself
Frank Cucci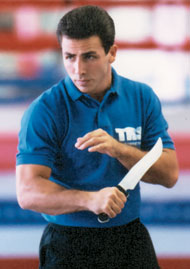 Frank Cucci was a pioneer in developing new, simplified hand-to-hand fighting systems for the Navy SEALs. His credentials are mind-boggling: 12 years as a Navy SEAL himself including four years in SEAL Team Six, the most elite division in the SEALs-the guys who always get the juiciest and toughest assignments.

Frank Cucci has served as the Chief Instructor of the Naval Special Warfare Unarmed Combat Course offered to SEALs. He has many years experience as an instructor, his experiences, and the DVD's he has done with FightFast.com are exceptional. You have everything to benefit and nothing to lose!

He's so respected as a fighter because he learned his skills through the teachings of famous Jeet Kune Do master Dan Inosanto (Bruce Lee's training partner) and equally famous Thai boxing master Surachai Sirisute. (These are the "heaviest" names in full-contact martial arts today.) His DVDs explode with secrets only taught to Navy Seals. You will learn to protect your family and yourself. Frank Cucci is a gifted Instructor and with our money back guarantee you have nothing to lose. Order one of Frank Cucci's DVD's and immerse yourself into the world of Frank Cucci and the world famous Navy Seals.
Products by Frank Cucci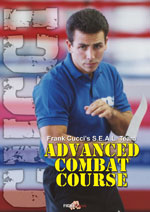 Advanced Combat Course
$99.00
With the knife-fighting skills you'll learn from Frank's new video, you will soon be able to: Instantly "freeze" the knife when it's thrust at you, taking complete control of it immediately! -control the fight with a decisive blow!
1 DVD, 183 Minutes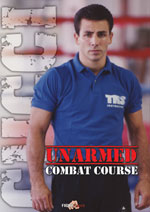 SEAL Team Unarmed Combat Course
$97.00
This amazing system was created to meet these basic requirements: The skills must be able to be learned quickly and remembered "viscerally". The system must be easy to use. There are never any "hard to master" moves, such as spinning head kicks.
2 DVD, 110 Minutes


Call us at 1-800-899-8153