Defense Against Weapons
Do It Yourself
Glen Boodry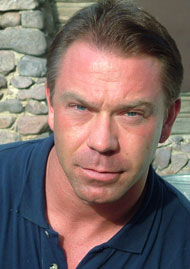 Glen Boodry is one of the US Government's top "Classified" counter-terrorism specialists. That got him shipped immediately to the Middle East once the heavy fighting began.

He's considered one of the top specialists we have over there because, among the many martial arts he's mastered, he knows the odd styles of hand-to-hand used by Middle Eastern terrorists. It's NOT karate or ju-jitsu. His special fighting knowledge has kept him in the heat of the War on Terror since 1989.

Glen Boodry has provided personal protection to Hamid Karzai the current President of Afghanistan. This duty was "Class One" dangerous, with numerous on-going assassination attempts.

Glen Boodry is a recognized (and feared) expert at Muay Thai (with 14 wins and 7 knockouts as a pro fighter in Thailand). He's also spent serious time in the Philippines, and was there when Marcos was toppled and every American in town was a target. He and four other Spec Op soldiers had to fight without weapons for two solid days, against knives and sticks and really pissed-off mobs.

Oh yeah and Glen Boodry was a front-line Team Leader for Spec Op units during Operation Desert Shield, Operation Desert Storm, and Operation Enduring Freedom.
Products by Glen Boodry
Call us at 1-800-899-8153