Defense Against Weapons
Do It Yourself
Gabriel Garcia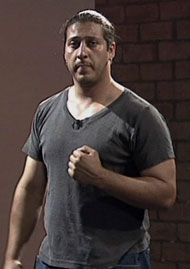 Gabriel was a streetfighter before he turned 10. In the nastiest barrios of LA and Guadalajara... where you can NEVER back down from a fight if you want to survive. Prison is safer than the streets he walked most of his life.

He was an outcast. A Mexican with light hair and bright green eyes - so he was accepted by no one. He took some martial arts training... but the skills he relies on were honed simply by paying attention in real fights.

He's been in over 1,150 streetfights and brawls. Against knives, multiple attackers, baseball bats, bicycle chains... you name it. And he learned how to beat EVERY SINGLE GUY THAT HE WENT AGAINST... using whatever means necessary.

The kicker: Gabriel stands under 5'9". He's short, and unassuming. He's NEVER had an advantage in size. He's NEVER had a gang standing behind him, to bail him out. And yet... walking the meanest streets in the U.S.... he learned to fight and win against anyone.
Call us at 1-800-899-8153