Defense Against Weapons
Do It Yourself
Gregg Wooldridge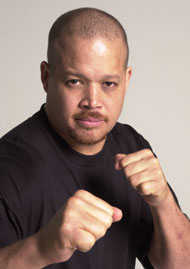 Gregg Woolridge is one of the nicest guys you'll ever meet. Doesn't look threatening. Doesn't glower, doesn't go looking for trouble, is pretty tight-lipped about past fights.

But he's well-known among the best. He grew up in the tough streets of southside Chicago, and got so GOOD at ending fights before they became brawls that he earned his first job... as a bouncer in a rough bar when he was just 18 years old.

He's near middle-age now and has had a LOT of time to perfect what he considers the most important skill you can have as a man: The ability to instantly take out even multiple opponents while protecting the people who rely on you.
Call us at 1-800-899-8153