Defense Against Weapons
Do It Yourself
Hock Hochheim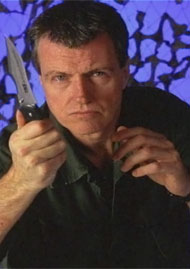 Hock Hochheim is the most respeted knife-fighting trainer in the world with astonishing credentials.

He's an ex-soldier, homocide cop, private detective, celebrity bodyguard, Martial Arts Hall Of Fame inductee, 10th degree Uan Black Belt, 3rd degree black belt in Filipino "konbatan" (awarded title of "Guru" in Manila), black belts in Aiki-Jitsu, Kempo and Modern Arnis.

He's also and instructor for the Texoma Regional Police Academy, and trainer for SWAT and Spec Op forces worldwide.
Call us at 1-800-899-8153