Defense Against Weapons
Do It Yourself
Jacob Bressler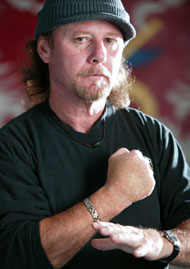 Jacob Bresler grew up in Israel learning the nastier details of street fighting. After joining the Israeli military he volunteered for a special "behind the lines" military mini-force supporting special operations.

Do you remember the Yom Kippur War? The Arab countries poured their entire armies into Israel. They wanted to make it just disappear. The Israeli army... completely outnumbered had other ideas. They used their superior fighting skills to defeat and destroy their enemies.

And Jacov Bresler participated in that war behind the lines supporting Special Forces on search-and-destroy missions. It's why a long line of military Special Forces soldiers gearing up to ship out overseas, and "hands on" federal agents seek out Jacov Bresler.
Call us at 1-800-899-8153