Defense Against Weapons
Do It Yourself
Jack Stone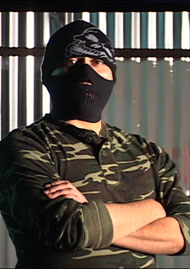 Special Forces bad-ass Jack Stone is often referred to as the "American Samurai".

And no... you've never heard of him. You can't Google him, or read about his military honors in the newspapers, or watch the president pin medals on him, or anything like that. His Middle East missions were way too nasty and "illegal" for that.

Truth is "Stone" is not his real name and he's refused to reveal any Special Forces secrets without a fake name and a mask to hide his identity.

And yet you cannot find a more qualified teacher of Special Forces vicious hand-to-hand fighting secrets ANYWHERE in the United States... not in the FBI field training units or CIA Virginia compounds, not in any of the high-tech DOE dojos and combat centers. No where.
Call us at 1-800-899-8153