Defense Against Weapons
Do It Yourself
Larry Wick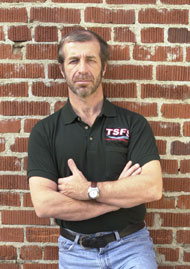 Larry Wick, a true master in the martial arts, has logged over 30 years experience of mixing it up in the street. But in a sudden flash of insight he realized that every single part of his black belt training had gaping holes that could get him killed. Holes that any street punk could break through. Sometimes by luck, sometimes by superior skill. Sometimes just by ganging up on him.

That's why Larry Wick set out to develop his own fighting system totally based on what happens on the street not in a dojo.

After years of development Larry Wick created a unique fighting system designed to defeat larger attackers and multiple opponents (any good street fighter knows you will almost always be attacked by a larger opponent).

Larry Wick's new system is so effective military personnel, FBI agents, and savvy cops have trekked all the way to Alaska (where he lives) just to learn his system.
Call us at 1-800-899-8153