Defense Against Weapons
Do It Yourself
Michael Tan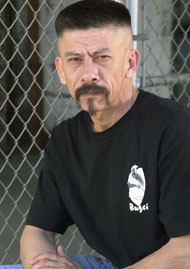 You may have never heard of him... but the "insiders" in martial arts know and fear Michael Tan. He's maybe 140 pounds soaking wet, and insists he's 5'6", though he looks much shorter yet he regularly takes out multiple opponents TWICE his size.

He did a notorious 5-year stint in a special Marine and is one of the ONLY people outside Japanese royalty or direct Samurai descent to EVER be allowed to learn the battlefield Samurai art of Daito Ryu. (That's the 800-year-old nasty art considered the "father art" of bushido and aikido.)

Michael spent 2 years becoming a master under the direct tutelage of Katsumi Yonezewa (I'm sure you know who this "master of masters" is). He has TWICE been nominated to the U.S. Martial Arts Association Hall of Fame. HUGE honor (as you know)... and he's done security work for the Beach Boys, heavy metal bad boys like RATT, and is BEGGED by Oakland and Los Angeles bar owners to be their bouncer.
Call us at 1-800-899-8153