Defense Against Weapons
Do It Yourself
Rick McCoy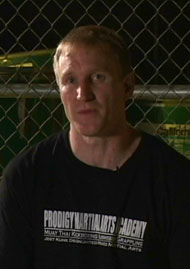 Rick McCoy is a two-time National Sambo champ... two-time East Coast Sambo champ, even won the Pan American Sambo championship. His peers have nothing but pure respect for his mixed martial arts skills.

Rick is famous for flustering opponents - especially the new guys who think they're ready to enter the cage because they studied BJJ and boxing for six months.
Experience has taught Rick that fights are won and lost in the range nearly everyone ignores... clinch fighting and takedowns are the key to winning.
Call us at 1-800-899-8153