Defense Against Weapons
Do It Yourself
Richard Ryan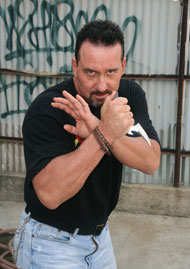 Richard Ryan learned to fight the HARD way. Mastered a wide range of fighting styles, and street-tested everything in the real world.

Formed that infamous "Gladiators Club" underground hard core sparring association you may have heard gossiped about.

That club was nasty. Between it and the street-testing, Ryan fought all comers: Street punks, bar-room bullies, drunk dock workers, roid-raged athletes, permanently-pissed-off pro and former pro fighters everybody.

This is what we in the biz call "Blood Testing". And he beat the living crap out of every opponent. Never lost. Never.
Call us at 1-800-899-8153