Defense Against Weapons
Do It Yourself
Shannon Stallard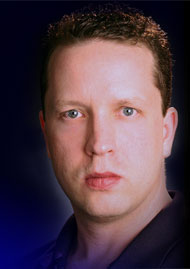 Shannon Stallard doesn't mind one bit being called a biology "lab geek". In fact he was so fascinated with how the human body and brain functioned that his college biology professor actually hired him on staff.

But what really surprised Shannon's fellow biology geeks was that Shannon is also one of the most respected martials artists on the planet!

His credentials are MORE than impressive. He studied martial arts for 27-years -- (since he was 6-years-old)... trained in Tae Kwon Do (at the famous Jhoon Ree centers)... studied Kempo Karate trained in Brazilian Jiu-Jitsu for 10 years... 14 years of hard-core teaching experience... head instructor of the nationally acclaimed Gangbusters program... earned black belts in Japanese Shorin Rue Karate, Sekie Rue Jiu-Jitsu, and Tagakure Rue Ninjitsu... earned a 3rd Dan in Korean Hwarang-do (used for training Special Forces and Navy SEALs)... and on and on... and on!
Call us at 1-800-899-8153