Defense Against Weapons
Do It Yourself
Thommy Boehlig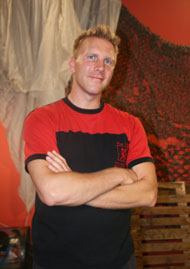 Thommy Boehlig teaches and knows, maybe better than any other man West of Beijing--a brutal, vicious, unfair form of Chinese-based combat called Wing Tsjun. Perhaps you've heard of it.

Bruce Lee credited Wing Tsjun as the basis for Jeet Kune Do. It's a powerful fighting technique consisting of very simple (and easy to quickly master) moves that will instantly and with nasty, bloody results end any confrontation right then and there.

For 8 long, bloody years, Boehlig was the main "go to" bouncer for the toughest and most dangerous clubs in Germany. (In Cologne, notorious for immigrant thugs who use guns and knives to settle minor arguments.)

Boehlig is so good at teaching this exotic, simple system that he was asked to provide close-protection for such famous people as Cardinal Machado (from the Vatican), and the Japanese equivalent of the Dalai Lama: Buddhist high priest Zuiou Inuoe.
Products by Thommy Boehlig
Call us at 1-800-899-8153