Defense Against Weapons
Do It Yourself
Yelena Pawela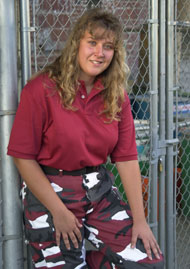 Yelena Pawela (code name "Y") held held the most vicious "cop beat" in the world -- the back streets of Moscow, where the enemy is the Russian Mafia. These gangsters make Islamic terrorists look like Boy Scouts.

And they do hold a grunge, even if they have to travel across the world to get their revenge.

What makes "Y" so important for us? Simple. Because "Y" is so small (under 5'6" and less than 120 lbs. soaking wet, with the musculature of a woman) that a completely new fighting style was required...
one that allowed small, unarmed people to slaughter bigger, meaner and better-trained attackers in seconds!

"Y" was a "first in" spec op soldier, going against hulking nasty terrorists face-to-face... and retrieving MIAs in the Chechnya hellhole war. You need a spine, and a little courage to do that.
Call us at 1-800-899-8153