Defense Against Weapons
Do It Yourself
American Bad-Ass Survival Guide 3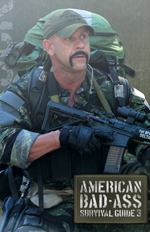 American Bad-Ass Survival Guide 3
Instructor: Dale Comstock
SKU: ABSA3 $129.00
Military grade survival tactics PROVEN to work when the chips are down. You'll receive the rope knots and climbing bonus. Valuable skills, you'll probably start using right away. You will also receive the bonus: Building An Underground Hide Site illustrated guide. This is a blueprint for your permanent hide side. The final bonus being Lethal Termination Tactics.
4 DVD 1 E-Book, 174 Minutes




More Information
First Page Previous Page > >>>
Call us at 1-800-899-8153