Defense Against Weapons
Do It Yourself
Carry, Conceal and Draw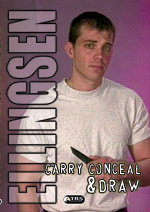 Carry, Conceal and Draw
Instructor: Ray Ellingsen
SKU: CARRY $49.00
This package shows you how to effectively choose, carry and draw self-defense weapons. Simply carrying a weapon is useless if you cannot draw and utilize it when the chips are down. In this package you'll learn simple and effective carry positions to ensure that you weapon is quickly accessible in any situation.
1 DVD, 30 Minutes




More Information
First Page Previous Page > >>>
Call us at 1-800-899-8153