Defense Against Weapons
Do It Yourself
Mike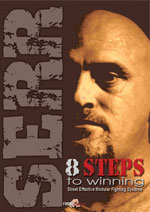 Mike's 8 Steps To Winning
Instructor: Mike Serr
SKU: 8STPS $97.00
How to build a simple "modular" system of 8 decisive "fight enders" that will guarantee a clear mind and "never fail" fight strategy. A devastating "Ridge Hand" strike. How to make this the fastest strike possible and where to deliver this.
2 DVD, 115 Minutes




More Information
First Page Previous Page > >>>
Call us at 1-800-899-8153