Defense Against Weapons
Do It Yourself
Street Safe II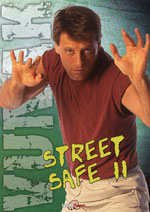 Street Safe II
Instructor: Paul Vunak
SKU: SAFE2 $97.00
This amazing collection reveals "unfair" fighting secrets that can defeat even top level streetfighters! Just knowing the material in Paul's Street Safe II will put you in an entirely new category of fighter.
1 DVD, 83 Minutes




More Information
Street Safe III
Instructor: Paul Vunak
SKU: SAFE3 $69.00
How to deal with "mass attacks" (when you're forced to fight off several guys at once) How to properly use "eye gouges" (most other "guru's" are simply wrong about this). Special "bites" that will destroy any attacker's will to fight.
1 DVD, 93 Minutes




More Information
First Page Previous Page > >>>
Call us at 1-800-899-8153