Defense Against Weapons
Do It Yourself
Street Survival Skills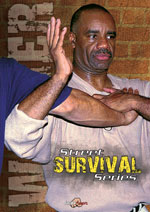 Street Survival Skills
Instructor: Tony Walker
SKU: SRVIV $69.00
Tony's system is unique, but it takes its basic moves from three of the best fighting sources in the world. What he teaches you are the easiest-yet-most-effective moves. James Painter and his crew are back with vicious, easy to learn ground game tactics.
1 DVD, 62 Minutes




More Information
First Page Previous Page > >>>
Call us at 1-800-899-8153